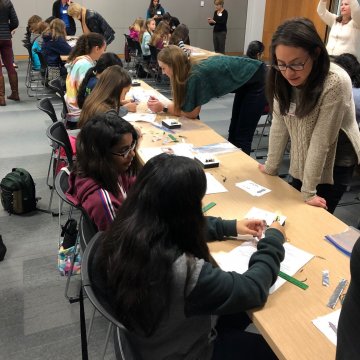 ENGEO reminisced on our early teen years and shared with 6th, 7th, and 8th grade students what made them want to become engineers at the inaugural Girls Lead the Way STEM (Science, Technology, Engineering, and Math) Summit last week. The half-day, all-female summit welcomed 100 girls from six local middle schools, and 50 volunteers of women from various STEM related companies. The morning kicked off with a presentation from key note speaker, Lt. Colonel Olga Custodio, USAF, the first Latina to complete USAF military pilot training, break the sound barrier, and become a USAF pilot. After Olga's inspirational story, the students split into groups where our ENGEO team of volunteers greeted them and assisted with two hands-on activities.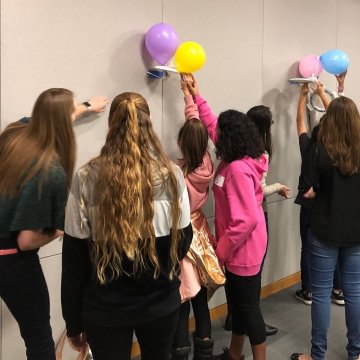 The first was building a 2D circuit with a foam core, battery, aluminum foil, and twinkle light. For the second activity, students were provided a bag of simple items such as paper plates, balloons, straw, plastic bag, and tape to build the slowest-landing contraption when dropped from six feet in the air. April Treece, the event organizer and coordinator shared her thanks with the day's volunteers:
"The Girls Lead The Way STEM Summit was greatly honored with your individual efforts last week to support our middle school girls who attended. Your interest in volunteering a day out of your busy schedule to help inspire and encourage the next generation of girls to pursue STEM education and careers made a difference in so many young lives. We hope you also enjoyed the day!"
The ENGEO team is absolutely committed to outstanding service to not only our clients but the community. This STEM event was a such a fulfilling and memorable day. What better way to give back than to have the opportunity to encourage and motivate today's youth on the world of STEM.